Alcorn County has enhanced risk for severe weather including tornadoes, damaging winds and hail
Alcorn County has an enhanced risk for severe weather on Wednesday, with multiple rounds of storms possible.
From MEMA:
TWO rounds of severe weather are possible this afternoon through early tomorrow morning.
ROUND #1 will impact areas in green this afternoon, but the risk is very low and storms will be spotty.
However, the risk will be greater late tonight during ROUND #2 for the northern half of the state as storms move in along a cold front. All types of severe weather will be possible, including tornadoes. Please have a way to receive warnings!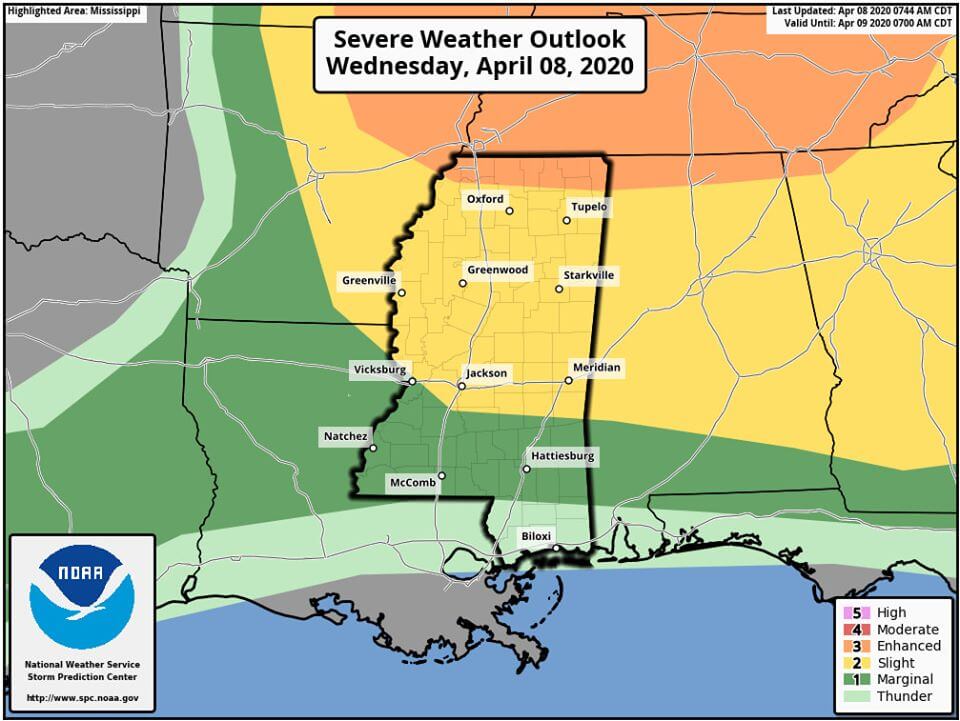 From the Mississippi Weather Network:
SEVERE WEATHER UPDATE (04/08/20 / TODAY): MWN has been tracking the threat for some severe weather for today throughout about the last 4 days, the models have taken a very sharp incline on the possibility and threats of severe weather with the newest runs. Tornadoes are no longer a "near 0" threat today, especially for our northern areas where some conditions persists for tornadoes now. The NOAA NWS Storm Prediction Center has expanded the yellow slight (level 2/5) risk considerably further south and east while also adding an orange enhanced (level 3/5) risk for our most northern counties in Mississippi. All Mississippian's will need to remain #WeatherAware today as these storms will be very isolated in nature and hard to predict.
We remind you that MWN will always have the latest information with post and live streams, if necessary, right here on our page.