Alcorn County to Host 2nd Annual GLOW 4 HOPE
by Katie Frost
Sept. 24, 2022, Glow 4 Hope returns to Corinth, MS, for their 2nd Annual fundraising event. "Last year was amazing and we were able to raise a little over $10,000." I spoke with Tina Bugg, one of eight members of the newly-formed Glow 4 Hope committee.
Roscoe Glow 4 Hope is a joint effort, in partnership with Corinth/Alcorn County Airport and Corinth Civitans. The Glow 4 Hope Committee has chosen Civitan International Research Center and The West Clinic, here in Corinth, as beneficiaries of the event.
The Civitan International Research Center (CIRC) is an Alabama institution that was created in 1989 with a $20-million pledge from Civitan International. The CIRC is a world leader in research and clinical care of intellectual and developmental disabilities (I/DD) and other brain-related conditions that impact the lives of one in six people worldwide.
Civitan scientists are regularly researching and studying autism, and looking for ways to improve the lives of children with Rhett syndrome, autism, and numerous other Neurodevelopmental Disorders.
When asked how she became involved with this event, Bugg shared that she was the chairperson for Relay For Life for North MS, during a separate fundraising event. The first year the proceeds to the Roscoe Glow 4 Hope went to Relay For Life. Working with the airport and the newly formed G4H committee, made her think of connecting with the airport again, and new beneficiaries were brought into the planning (CIRC and The West Clinic).
After seeing the poster and hearing about the Hot Air Balloon rides…I had to ask. Would she be riding one? She smiled nervously, replying, "I'd like to. I was too busy last year, and didn't get to– but I'd like to." She added that some hot air balloons would be tethered, and some "glowing," hence the name of the event. Bugg also reminisced about the Hot Air Balloon races that used to take place in Corinth, and hoped that others, like herself, would appreciate the nod back to those times.
What should families look forward to for this event? Well, the lineup is exciting!! Live music, food vendors, a kids play zone, Hot Air balloon rides, and a car show.
Bands playing (in this order): Courthouse Pickers, Good Time Grass, Refried Confusion, Andy Avery, and A Band of Jones. So be sure to come out, and stay 'til it's done!
The Glow 4 Hope committee is hopeful for a great turnout of Alcorn County and nearby area families, and invites area residents to come on out and enjoy themselves, for an amazing benefit with a cause. Bring your lawn chairs! The event starts at 4 PM. There will be parking at the airport, and event volunteers will have golf carts running attendees back and forth from their cars to the location.
If you're interested in sponsoring the event, the Glow 4 Hope Committee is still looking for more sponsors. Sponsors' names/businesses will be listed on Event T-shirts. If interested, sponsorship applications are due by August 31st.
For more information, and/or sponsorship applications, please contact the Glow 4 Hope Committee: Tina Bugg (662-808-2294), Melissa Hall (662-603-8026), Sunny Hudson, Ann Cooper, Dianne Timbes, Joe Rinehart (662-665-5606), Donna Sowers (662-287-3223), or Vivian Moss.
I'm no aviation expert…and he's not around anymore, R.I.P., but I'm under the distinct impression that Mr. Roscoe Turner, "Aviation's Master Showman," would have loved the idea of this event, carrying on his name and legacy. Mark your calendars (Sept. 24), and we'll see you at the airport!
Presented by Roscoe Turner Airport and Corinth Civitans.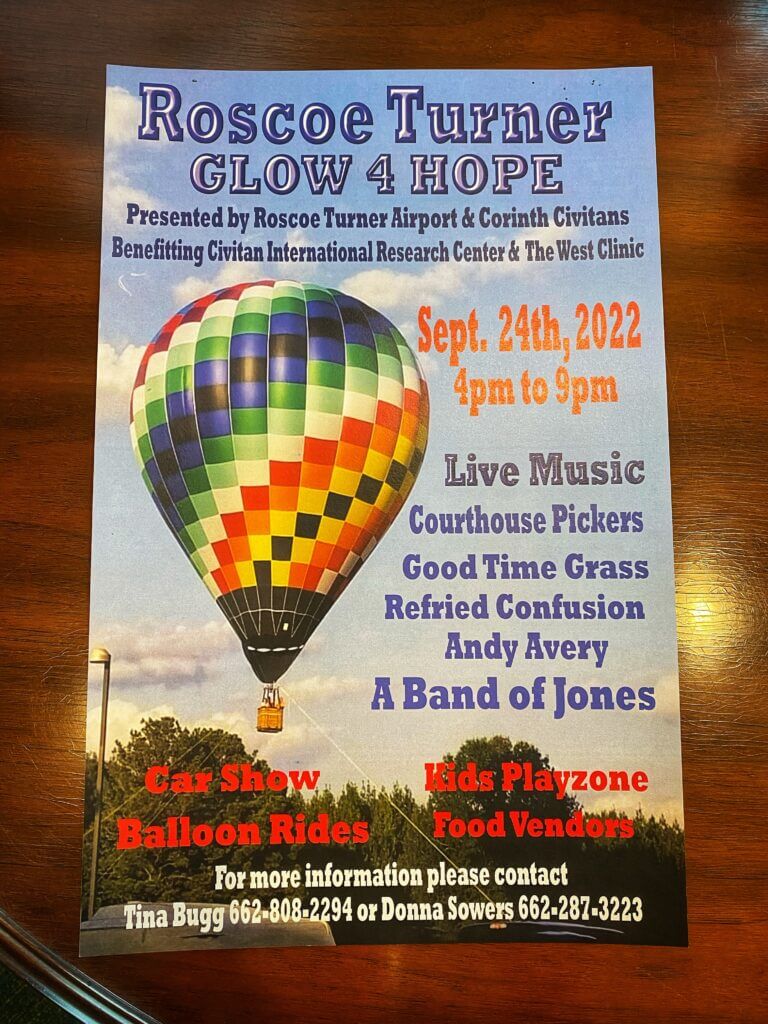 ---
WHAT: Glow 4 Hope
WHEN: Sept. 24, 2022, beginning at 4PM
WHERE: Roscoe Turner Airport
BENEFITTING: Civitan International Research Center & The West Clinic
COST: $10 per person to ride the hot air balloons, $5 per car to enter the event
---