Severe weather for much of Mississippi with strong likelihood of tornadoes, damaging wind and hail on Easter
Easter Sunday could see an extreme weather event in Mississippi this year, according to most meteorological models. You need to evaluate your severe weather plan now.
From Mississippi Weather Network;
MODERATE (LEVEL 4/5) RISK ISSUED FOR MS: In a move EXTREMELY RARE the National Weather Service Storm Prediction Center has issued a Moderate risk 3 days ahead of the forecast weather event.
LARGE, LONG-TRACK TORNADOES ARE EXTREMELY LIKELY ON EASTER SUNDAY, THE TIME TO PREPARE IS NOW! Mississippi Weather Network will continue to keep you up to date in this threat and have the latest forecast and information. #MSwx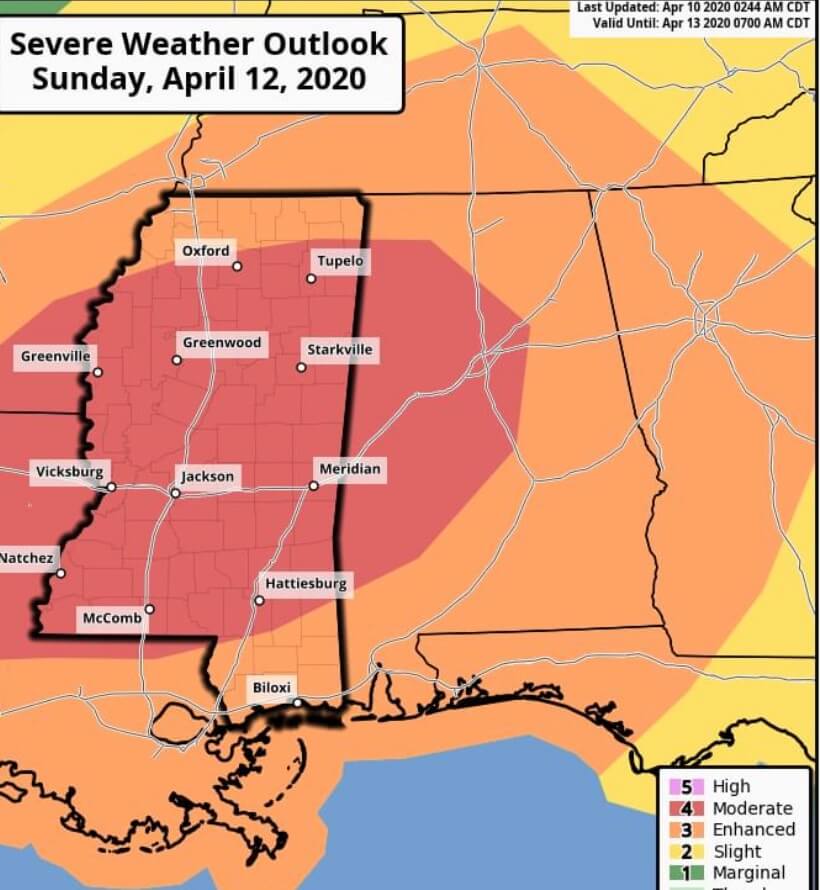 From Meteorologist Brett Adair:
https://www.facebook.com/335187056617617/posts/1836322006504107/
SIGNIFICANT THREAT EASTER SUNDAY IN THE SOUTH:
Okay folks….I've been mentioning the threat for several days but now it's time to get more serious about the threat.
TIMING: Be prepared for storms ALL DAY on Easter. There is potential for warm frontal storms that could spin early on – open warm sector storms – and then even dry line / frontal storms into the overnight on Sunday. Thus – Sunday will be an active 24 hour period overall.
STORM MODE: Looks like we will have storms along a warm front, potentially super-cellular, by midday moving into the greatest threat zone. As the front passes….more storms are possible ahead of an incoming jet maximum in the mid levels. This will enhance an already unstable environment further and set the stage for potentially longer tracked, violent tornadoes into the late afternoon through the overnight hours.
CALL TO ACTION: It's time to make sure those weather radios have fresh batteries – charge those battery packs for emergency power – make sure you have flash lights / glow sticks in case you lose power.
COMMUNITY SHELTERS: Some places have been undecided on this situation due to COVID-19. If you have questions on community shelters…I would contact your local emergency management office to determine which shelters will be open during a severe weather risk. I would urge emergency management to open the shelters for the potential of life threatening weather.
FINAL THOUGHTS: The Storm Prediction Center will be posting their outlook for Sunday soon – and I believe we will see a Moderate to High Risk with this setup on their future updates. This is not one to play around with….take it seriously. Now isn't a time for panic – it's a time for preparation.