Man arrested on murder charge related to shooting, vehicle fire
An Alcorn County man was arrested and charged with murder along with other felony charges related to the reported shooting and vehicle fire in Corinth of Wednesday.
David Rhodes, 39,  of County Road 192 Corinth was charged with murder, arson, tampering with evidence and possession of a firearm by a convicted felon.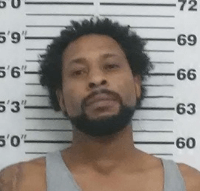 The arret and charges stem from an incdident that took place Wednesday in Corinth involving a reported shooting and a subsequent vehicle fire.
Rhodes is accused of murdering Terrance Cole Jr., 38, of Corinth.
Alcorn County Sheriffs Department responded to a reported shooting Wednesday on County Road 192, just east of Corinth off of Highway 2.
While investigating, the Corinth Police Department received a report of a vehicle that was on fire at Main Street and Buchanan Street.
Both of these crimes were tied to Rhodes.