Mississippi Forestry helps save over 300 structures from 1700 acre wildfire
The Mississippi Forestry Commission helped save over 300 structres from a 1700 acre wildfire that struck in Harrison county this week, according to a release from the agency.
From MFC:
Earlier this week, #MSforestry Commission crews, Harrison County Fire Services, and a number of city, county, and state agencies battled and contained a 1,700-acre wildfire in Harrison County. Over the course of the four-day "Tillman Road Fire," MFC dispatched 30 wildland firefighters and 14 tractor plow units. Harrison County Fire Services assigned over 200 resources and around 80 pieces of equipment to the fire. 324 structures were threatened and saved by firefighters.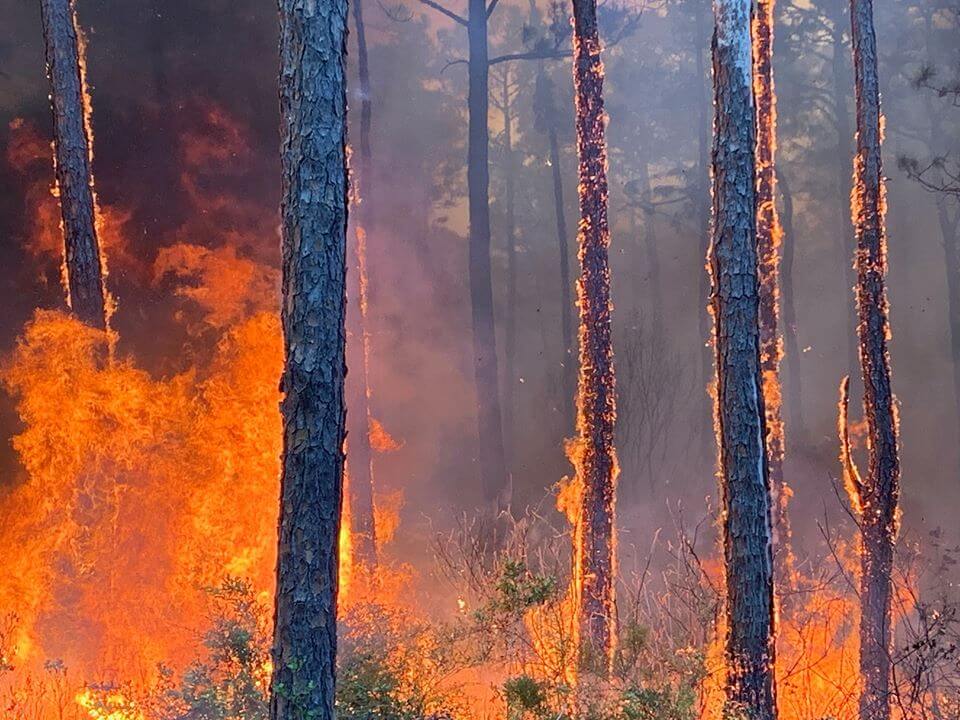 See the full press release below:
Earlier this week, crews from the Mississippi Forestry Commission
(MFC), Harrison County Fire Services and a number of other agencies battled a large wildfire in
Harrison County.

"The Gulf Coast was in a drought situation, with high winds and low relative humidity," said
Russell Bozeman, MFC state forester. "These weather conditions are a recipe for a potential
wildfire outbreak."

The "Tillman Road Fire" was first reported to the MFC around noon on Sunday, April 26. Initial estimates reported the fire to be about 100 acres. Crews used bulldozers and tractor plows to build fire lines in an effort to slow and box in the fire.

"The fire was reported in an area that was hard for our crews to reach because of canals and creeks," Bozeman said. "We had to use manmade and natural firebreaks to attempt to prevent the fire from spreading."

On Monday, April 27, high winds from the south caused the fire to grow to approximately 300 acres. The fire's push north caused a number of evacuations and road closures in the area.

Crews, again, worked well into Monday night, setting backfires near Interstate 10. A backfire is a fire that is intentionally set by wildland firefighters along the inner edge of a fireline to consume the fuel in the path of the wildfire. By Monday night, the fire had grown to 1500 acres
at 80 percent containment.

"We had favorable weather condition on Tuesday that allowed our crews to hold the outer edges of the fire," said Bozeman. "However, some interior burning caused the fire to settle in at approximately 1,700 acres."

An inch of rain on Tuesday night into Wednesday morning allowed the fire to be called controlled and contained. MFC crews continue to monitor the area for any re-burn scenarios.
Over the course of the fire, approximately 25-30 MFC wildland firefighters responded to the Tillman Road Fire. The MFC also dispatched 14 tractor plow units over the four-day fire. MFC aviation supported the fire suppression efforts, with assistance from the Harrison County
Sheriff's Department helicopter.

Harrison County Fire Services reported additional resources assigned to the fire to exceed 200, with close to 80 pieces of equipment.

There were 324 structures that were threatened and saved by firefighters. The fire did destroy one abandoned building and an RV.

"I am extremely proud of our MFC crews and how they responded to the Tillman Road Fire, aswell as the interagency collaboration and communication," Bozeman said. "This was a
successful ending due to the tremendous efforts from city, county and state resources protecting life and property."

About the Mississippi Forestry Commission
The mission of the Mississippi Forestry Commission is to provide active leadership in forest
protection, forest management, forest inventory, and effective forest information distribution,
necessary for Mississippi's sustainable forest-based economy. Established in 1926, the
Mississippi Forestry Commission protects the state's valuable 19.2 million acres of forestland
from wildfire, manages approximately 480,000 acres of forested School Trust Land and delivers
quality forest management services and assistance to both rural and urban landowners. To
learn more about the Mississippi Forestry Commission, please visit www.mfc.ms.gov and like
and follow the MFC on Facebook, Twitter, Instagram and YouTube at @MSForestryComm.